Drew Morgan joins Kenya on Thank You For Saying NO. He talks about how not getting a job in South Africa led him to become an attorney, which eventually led him to become a comedian. He gets into how growing up in a small town in Tennessee with a population of about 600 people shaped who he is today. Drew talks about the struggles he encountered when he took the leap from being a public defender to becoming a comedian. Kenya and Drew talk about the importance of letting people show up for them during difficult times, even though it can be challenging. Drew's journey is one of finding meaning in life's unexpected turns, learning about himself, and recognizing the bravery in simply putting one foot in front of the other when times are tough. He will inspire you to take that leap into the unknown and to keep pushing forward through life's unexpected twists and turns.
If you're watching this episode on YouTube, you'll see Drew looking like an angel due to some unexpected natural light coming through the ceiling window at the studio. We take this as a sign that this episode is blessed! LOL
Follow @thankyouforsayingno on social media for exclusive content and updates! Hosted by @miss_kenyaaaaa
With Special guest Drew Morgan IG: @drewmorgcomedy.
Cover art by @emmaporter.world
Intro and outro music by @mikescullymusic
"We got some hope and we have a plan"- Drew Morgan
Comments
(2)
To leave or reply to comments, please download free Podbean or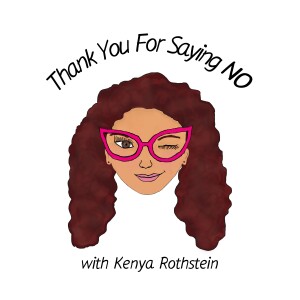 So glad you liked the episode! Thank you for listening 🙏🙏